Law
Law at ECU will equip you with skills for the courtroom and beyond, providing greater scope and options for a rewarding career in the legal, corporate, commercial and social justice fields. Ready to raise the bar?
Find out more
Why ECU?
THE Young University Rankings

ECU has been ranked in the world's top 150 universities under 50 years old in the 2019 Times Higher Education (THE) Young Universities Rankings.

Young universities are measured on their teaching, research, citations, international outlook and industry income.

These are the same performance indicators as measured in the overall THE World University Rankings.

Good Universities Guide

In the 2020 Good Universities Guide, ECU graduates have given us a 5-star rating for:

Teaching quality
Skills development
Student support
Learning resources
Median salary (based on the starting salary for new domestic graduates under age 25, and in their first full-time job.)

The 5-star rating for teaching quality has now been achieved for 13 straight years. We're the only public university in Australia to have achieved such a consistently high endorsement.

Read more about the Good Universities Guide.

Business & Law ranked best in WA

ECU received the top undergraduate teaching quality ranking of all public universities in Australia in the 2019 QILT (Quality Indicators for Teaching & Learning) survey.

We're also the top-ranked Australian public university for skills development and overall educational experience (based on two-year aggregated results).

Business and Law disciplines ranked best in Western Australia in the survey:

Business & Management – Western Australia's top public university for undergraduate teaching quality, graduate satisfaction, skills development and student support.
Legal & Paralegal Studies – Western Australia's top public university for undergraduate teaching quality, learning resources, graduate satisfaction and full-time graduate employment in the undergraduate Legal & Paralegal Studies discipline.

QILT is an annual independent Australian government survey.
Courses
Study world ready
ECU's 4-year Bachelor of Laws degree was the first accredited Law degree in WA offered fully online, allowing greater study flexibility. Our Graduate Entry course enables students with a Bachelor's degree in another discipline to complete a Bachelor of Laws full-time in just three years.
Download a guide
If you prefer paper over pixels, please download one of our guides.
Become World Ready
Experience Law at ECU.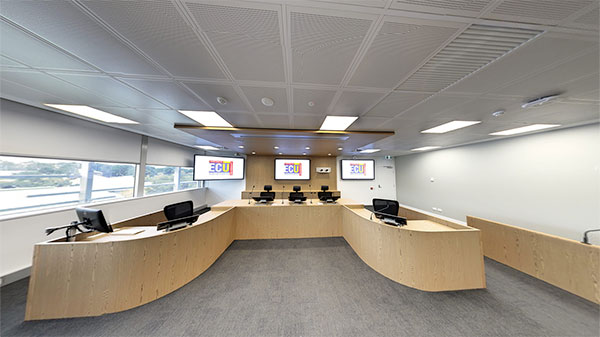 Reduce your expenses
Scholarships recognise those whose life journey may have been challenging, as well as students who've shown outstanding academic excellence and endeavour.
A scholarship can help you realise your ambitions by paying for fees, text books and living expenses.
Explore your options
This 1-minute video gives you a quick overview of ECU's School of Business and Law, including its fantastic facilities.
Student
stories
"Invaluable student experiences"

Alan Watkins

ECU Law student Alan Watkins talks about the unexpected work experience he's enjoyed while studying here.

"My parliamentary internship gave me insight into the political arena of law"

Rachel Robson

It has definitely assisted me with my career as my research paper was published and discussed in Parliament, and my contribution acknowledged by the MP.

Apart from the internship, I was fortunate to undertake a work placement program with the Law Society of Western Australia, in their Law Access Division. This gave me an insight into the pro bono area of work for law. I've had a great experience at ECU.

You are taught to challenge yourself outside of a textbook and incorporate theoretical knowledge into practical experience.

"My undergraduate journey at ECU has been amazing"

Stuart Caporn

Returning to studies mid-life, I have embarked on an academic journey by undertaking the Bachelor of Laws undergraduate course.

The flexibility, convenience and support offered by ECU were pivotal in my decision to take up this challenge. The lecturers and staff are extremely supportive, encouraging and approachable, and always provide the help I need. I have found the culture at ECU very empowering.

As the recipient of the Cullen McLeod Prize in Contract Law II in 2018, I now have the chance to complete an internship at a law firm. This is a great opportunity to apply the theory I've learnt to real world practice.