Nursing & Midwifery
We're Western Australia's largest nursing program, with facilities like hospital-standard demonstration wards that are the envy of other universities.
Find out more
Nursing & Midwifery at ECU
ECU has the only Bachelor of Nursing & Bachelor of Midwifery double degree in Western Australia and our nursing courses include flexible online study options.
We also have facilities that are the envy of other universities, with demonstration wards that are as close as you can get to the real thing – until you start your practical work in one of Western Australia's major hospitals.
If the idea of a career in nursing or midwifery gets your pulse racing, look no further than ECU.
Courses
The nursing and midwifery professions offer you different options for healthcare specialisation, including newborn babies, aged care, paediatrics, mental health, critical care, rural or remote nursing and a host of other specialties.
Our School of Nursing and Midwifery has partnerships with metropolitan and rural hospitals and the private sector, allowing you to undertake most of your undergraduate clinical placements in one setting.
Some courses can be studied at our Joondalup or South West (Bunbury) campuses.
Study areas, degrees and majors
At ECU, we've grouped similar fields of work into study areas – Nursing and Midwifery is one of them.
Within this study area you can choose a degree, for example a Bachelor of Science (Nursing) or a double degree such as a Bachelor of Science (Nursing)/Bachelor of Science (Midwifery).
Postgraduate degrees are also available through coursework or research. For example, you can study our Master of Nursing by Research degree or complete a Master of Healthcare Studies by coursework.
Download a guide
If you prefer paper over pixels, please download one of our guides.
Become World Ready
Experience Nursing & Midwifery at ECU.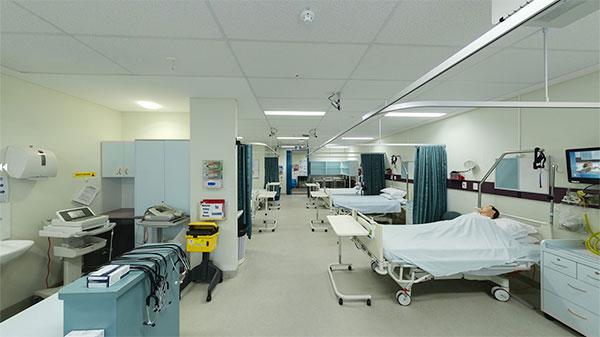 Reduce your expenses
Scholarships recognise those whose life journey may have been challenging, as well as students who've shown outstanding academic excellence and endeavour.
A scholarship can help you realise your ambitions by paying for fees, text books and living expenses.
Explore your options
ECU's worked for me this way, I'm going to keep going with ECU and do the Masters of Midwifery. So I graduated from the masters earlier this year, now I'm working at King Edward Memorial Hospital as a midwife, in my dream job.
Student
stories
"I love the atmosphere of being on campus; everyone is really friendly"

Danielle Spencer

I chose ECU partly because it was close to home, but also because I'd heard good things from my friends who had studied here previously.

I have wanted to do nursing and Paramedicine since I was a kid. Once I decided I wanted to go to university, I did a UniPrep course at ECU and got accepted into nursing. I hope to complete the paramedic course next.

In the short time I've studied nursing, the skills I learnt through UniPrep, such as referencing, have proven valuable.

I have studied as both an online student and on campus. I love the atmosphere of being on campus; everyone is really friendly.

"Doubling up for greater opportunity"

Jessica Burgess

Nursing and Midwifery double degree student Jessica Burgess talks about her ECU experience.

"The support staff are always ready to help"

Margaret Adejumo

Margaret, an international student from Nigeria, is studying a Master of Nursing at ECU, and enjoying the mix of theory with practical real-life situations.