Nursing & Midwifery
We're Western Australia's largest nursing program, with facilities like hospital-standard demonstration wards that are the envy of other universities.
Find out more
Nursing & Midwifery at ECU
ECU has the only Bachelor of Nursing & Bachelor of Midwifery double degree in Western Australia and our nursing courses include flexible online study options.
We also have facilities that are the envy of other universities, with demonstration wards that are as close as you can get to the real thing – until you start your practical work in one of Western Australia's major hospitals.
If the idea of a career in nursing or midwifery gets your pulse racing, look no further than ECU.
Why ECU?
ECU top in teaching quality

For the fifth year in a row, ECU has received the top undergraduate teaching quality ranking of all 37 public universities in Australia.

Over 85% of ECU students participating in the government's QILT survey, rated their teaching quality positively. ECU was also the top-ranked public university in Australia for undergraduate skills development for the sixth year in a row.

Good Universities Guide

In the 2020 Good Universities Guide, ECU graduates have given us a 5-star rating for:

Teaching quality
Skills development
Student support
Learning resources
Median salary (based on the starting salary for new domestic graduates under age 25, and in their first full-time job.)

The 5-star rating for teaching quality has now been achieved for 13 straight years. We're the only public university in Australia to have achieved such a consistently high endorsement.

Read more about the Good Universities Guide.

Nursing program in world's top 150

ECU has received international recognition for the quality of our Nursing program, placing in the world's top 150 universities in ShanghaiRanking's 2019 global rankings.

Shanghai Rankings, also known as Academic Ranking of World Universities, is an annual publication of world university rankings, originally compiled and issued by Shanghai Jiao Tong University in 2003.

THE Impact Rankings 2020

ECU has been ranked number 9 in the world for Quality Education and is in the top 100 overall in the 2020 Times Higher Education (THE) Impact rankings.

The rankings show how the global higher education sector is working towards the United Nations' Sustainable Development Goals.

ECU also ranked in the top 4% of universities surveyed for Gender Equality, and in the top 50 for Good Health and Wellbeing and Sustainable Cities and Communities.

Read more about the THE Impact Rankings

THE Young University Rankings

ECU has been ranked in the world's top 100 universities under 50 years old in the 2020 Times Higher Education (THE) Young Universities Rankings.

Young universities are measured on their teaching, research, citations, international outlook and industry income.

These are the same performance indicators as measured in the overall THE World University Rankings.
Courses
The nursing and midwifery professions offer you different options for healthcare specialisation, including newborn babies, aged care, paediatrics, mental health, critical care, rural or remote nursing and a host of other specialties.
Our School of Nursing and Midwifery has partnerships with metropolitan and rural hospitals and the private sector, allowing you to undertake most of your undergraduate clinical placements in one setting.
Some courses can be studied at our Joondalup or South West (Bunbury) campuses.
Study areas, degrees and majors
At ECU, we've grouped similar fields of work into study areas – Nursing and Midwifery is one of them.
Within this study area you can choose a degree, for example a Bachelor of Science (Nursing) or a double degree such as a Bachelor of Science (Nursing)/Bachelor of Science (Midwifery).
Postgraduate degrees are also available through coursework or research. For example, you can study our Master of Nursing by Research degree or complete a Master of Healthcare Studies by coursework.
Download a guide
If you prefer paper over pixels, please download one of our guides.
Become World Ready
Experience Nursing & Midwifery at ECU.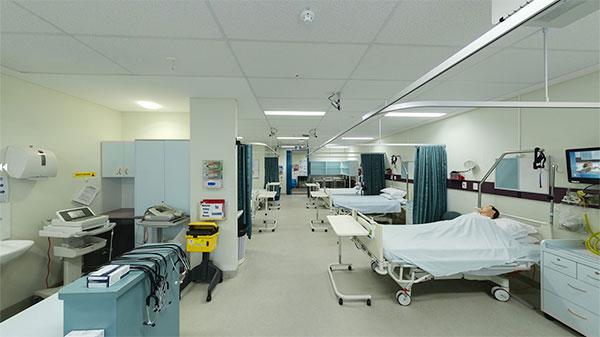 Scholarship opportunities to reduce your expenses
Scholarships recognise those whose life journey may have been challenging, as well as students who've shown outstanding academic excellence and endeavour.
A scholarship can help you realise your ambitions by paying for fees, text books and living expenses.
Explore your options
Meet Helen Halton, Director of Postgraduate Nursing Studies and Nurse Practitioner at ECU's Chronic Disease Wellness Clinic.

ECU's worked for me this way, I'm going to keep going with ECU and do the Masters of Midwifery. So I graduated from the masters earlier this year, now I'm working at King Edward Memorial Hospital as a midwife, in my dream job.
Student
stories
"Combining work with online postgrad study"

Anhnie Nguyen

Master of Clinical Nursing student Anhnie Nguyen talks about combining online study at ECU with her nursing work.

"As a stay at home mum for 10 years and the first in my family to go to university, I wasn't sure what to expect. I was immediately welcomed by staff and students!"

Regina Deleeuw

I'd always wanted to become a nurse but having been out of the workforce for 10 years, being a mature aged Indigenous student and a mother of three, I was anxious about studying.

It didn't take long for me to settle into 'uni' life and fit in with everyone! I joined ECU's sports club and made some really good friends. The facilities at ECU are great and provide everything you need in one place. The staff are also really supportive.

Nursing at ECU has helped me develop organisational, communication, social and interpersonal skills in the classroom and I've been able to apply those in my nursing practicums. It's all been very rewarding.

"The clinical practice wards and simulation patients at ECU are as close as you'll get to the real thing"

Rocheal-Lee Lock

I've wanted to be a nurse since I was 16 after I helped deliver my aunt's baby, so that just set the wheels in motion. Since then, I've been raising children and waiting for the right time to study as a mature age student. I feel comfortable studying at ECU and practicing my clinical skills before I go out into the real hospital environment. I can honestly say that my lecturers and tutors are the best of the best. I am confident in their ability because they are working in the industry and are in touch with what nursing is currently like.