Nursing & Midwifery
We're Western Australia's largest nursing program, with facilities like hospital-standard demonstration wards that are the envy of other universities.
Find out more
Nursing & Midwifery at ECU
ECU has the only Bachelor of Nursing & Bachelor of Midwifery double degree in Western Australia and our nursing courses include flexible online study options.
We also have facilities that are the envy of other universities, with demonstration wards that are as close as you can get to the real thing – until you start your practical work in one of Western Australia's major hospitals.
If the idea of a career in nursing or midwifery gets your pulse racing, look no further than ECU.
Why ECU?
THE Impact Rankings

ECU has been ranked number 6 in the world for Gender Equality and number 11 for Quality Education in the 2019 Times Higher Education (THE) Impact Rankings.

The rankings show how the global higher education sector is working towards the United Nations' Sustainable Development Goals.

ECU is ranked in the top 50 overall, and also features at #22 for Peace, Justice and Strong Institutions, and #28 for Good Health and Well-being.

Read more about the THE Impact Rankings

QILT rankings

ECU received the top undergraduate teaching quality ranking of all public universities in the Australian Governments 2019 QILT (Quality Indicators for Learning & Teaching) survey.

We're also the top-ranked Australian public university for skills development and overall educational experience (based on two-year aggregated results).

ECU also ranked best in Australia across these disciplines for teaching quality, skills development, student support, quality of educational experience and overall educational experience:

Humanities, Culture and Social Sciences
Rehabilitation
Creative Arts
Teacher Education

Read more about the QILT survey.

Nursing program in world's top 150

ECU has received international recognition for the quality of our Nursing program, placing in the world's top 150 universities in ShanghaiRanking's 2019 global rankings.

Shanghai Rankings, also known as Academic Ranking of World Universities, is an annual publication of world university rankings, originally compiled and issued by Shanghai Jiao Tong University in 2003.

THE Young University Rankings

ECU has been ranked in the world's top 150 universities under 50 years old in the 2019 Times Higher Education (THE) Young Universities Rankings.

Young universities are measured on their teaching, research, citations, international outlook and industry income.

These are the same performance indicators as measured in the overall THE World University Rankings.

Good Universities Guide

In the 2020 Good Universities Guide, ECU graduates have given us a 5-star rating for:

Teaching quality
Skills development
Student support
Learning resources
Median salary (based on the starting salary for new domestic graduates under age 25, and in their first full-time job.)

The 5-star rating for teaching quality has now been achieved for 13 straight years. We're the only public university in Australia to have achieved such a consistently high endorsement.

Read more about the Good Universities Guide.
Courses
The nursing and midwifery professions offer you different options for healthcare specialisation, including newborn babies, aged care, paediatrics, mental health, critical care, rural or remote nursing and a host of other specialties.
Our School of Nursing and Midwifery has partnerships with metropolitan and rural hospitals and the private sector, allowing you to undertake most of your undergraduate clinical placements in one setting.
Some courses can be studied at our Joondalup or South West (Bunbury) campuses.
Study areas, degrees and majors
At ECU, we've grouped similar fields of work into study areas – Nursing and Midwifery is one of them.
Within this study area you can choose a degree, for example a Bachelor of Science (Nursing) or a double degree such as a Bachelor of Science (Nursing)/Bachelor of Science (Midwifery).
Postgraduate degrees are also available through coursework or research. For example, you can study our Master of Nursing by Research degree or complete a Master of Healthcare Studies by coursework.
Download a guide
If you prefer paper over pixels, please download one of our guides.
Become World Ready
Experience Nursing & Midwifery at ECU.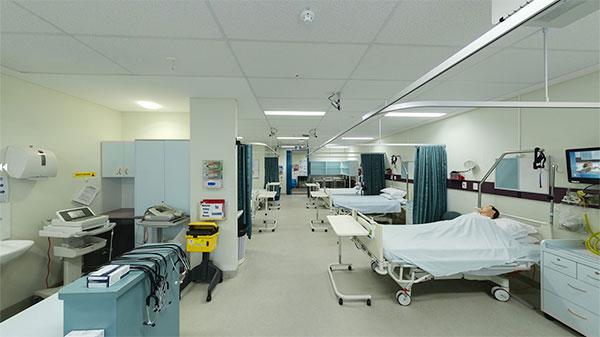 Reduce your expenses
Scholarships recognise those whose life journey may have been challenging, as well as students who've shown outstanding academic excellence and endeavour.
A scholarship can help you realise your ambitions by paying for fees, text books and living expenses.
Explore your options
ECU's worked for me this way, I'm going to keep going with ECU and do the Masters of Midwifery. So I graduated from the masters earlier this year, now I'm working at King Edward Memorial Hospital as a midwife, in my dream job.
Student
stories
"Combining work with online postgrad study"

Anhnie Nguyen

Master of Clinical Nursing student Anhnie Nguyen talks about combining online study at ECU with her nursing work.

"I love the atmosphere of being on campus; everyone is really friendly"

Danielle Spencer

I chose ECU partly because it was close to home, but also because I'd heard good things from my friends who had studied here previously.

I have wanted to do nursing and Paramedicine since I was a kid. Once I decided I wanted to go to university, I did a UniPrep course at ECU and got accepted into nursing. I hope to complete the paramedic course next.

In the short time I've studied nursing, the skills I learnt through UniPrep, such as referencing, have proven valuable.

I have studied as both an online student and on campus. I love the atmosphere of being on campus; everyone is really friendly.

"ECU South West is a tight-knit community where you get a sense of belonging"

Sharna Allan

After graduating from high school in 2015, I had no idea what area of study I wanted to pursue at university. I decided to attend the ECU South West Open Day and found out they were offering a dual degree of Nursing and Midwifery. I was very excited I was able to find a course that was interesting to study and be able to stay at home.

I was also surprised by the amount of practicum we are exposed to and the variety of placement options. In first year, we entered the nursing area through aged care. It was here we were able to establish our fundamental abilities of communication and care.

This is an incredible degree with so many options post-graduation. You can work anywhere in the world and at any time. I would highly recommend this degree, however it is one that requires effort and involvement.