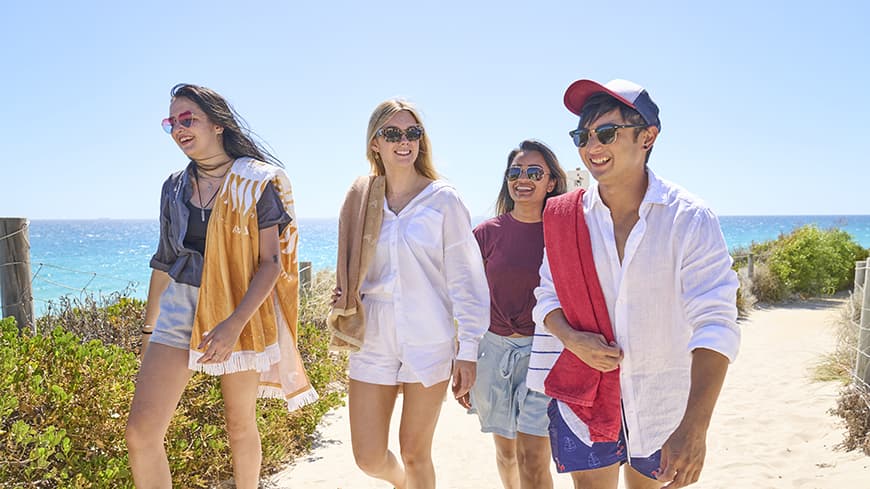 The capital of Western Australia used to be considered the remotest 'westernised' city in the world.
Geographically speaking, that's probably true. But in reality, no-one with an internet connection is remote anymore, wherever they live in the world.
And Perth is also the closest Australian capital to many countries in Asia, Africa and Europe, even sharing the same time zone with some of them.
An enviable lifestyle
We should also mention that Perth has been rated one of the world's top cities for liveability in the Economist's annual global survey.
Spend some time here and you'll understand why.
For starters, Perth is one of the sunniest capital cities in the world. Combine that with 19 pristine beaches along its coastline and you have no excuse not to enjoy yourself.
Perth enjoys what most people would call 'summer weather' for about 6 months of the year.
The Mediterranean style climate delivers balmy nights that are perfect for alfresco dining or for enjoying outdoor entertainment.
Speaking of relaxation, Perth is home to the largest inner-city park in the world.
Kings Park is a fabulous place to take photos of the city and the Swan and Canning rivers, take leisurely walks or rides, or go for a picnic with friends.
You can even go there to watch movies under the stars or attend a concert.
Kings Park also contains a vast range of Australian native wildflowers and flowering trees, coming to life in Springtime.
A cultural melting pot
Another thing that makes Perth such a great place to live is how multicultural we are.
That's not just because we attract loads of international students, though it helps a little.
Roughly one third of Perth's population was born overseas, with the majority coming from England, China, India, New Zealand and Malaysia.
With this many communities from all around the world, Perth hosts lots of cultural activities and festivals during the year.
So, wherever you're from, you'll have no trouble finding a little piece of your home in Perth!
Nor will you have any trouble finding high quality food - and a huge variety at that.
Getting better all the time
Like all great cities, Perth doesn't sit back and think "How good am I?"
Things are happening here all the time, making it an even better place to live or to visit.
The city's already excellent road systems are being complemented by new rail networks to more effectively move people around.
And we're building a stunning state-of-the-art university campus right in the heart of the city that's due to open to students in late 2025.
ECU's city campus will reshape the Perth CBD and redefine higher education in Western Australia.
If you're thinking about spending some time in Australia for study or work, you should definitely take a closer look at the city of Perth.
Banner image of city skyline courtesy of Tourism WA.