Exercise & Sports Science
ECU's Sports Science program ranked in the world's top 25 in the 2018 ShanghaiRankings global survey of Sports Science Schools and Departments. High performance sports teams choose ECU for testing, including West Coast Eagles, Perth Wildcats and many other elite athletes.
Find out more
Why ECU?
THE Young University Rankings

ECU has been ranked in the world's top 150 universities under 50 years old in the 2019 Times Higher Education (THE) Young Universities Rankings.

Young universities are measured on their teaching, research, citations, international outlook and industry income.

These are the same performance indicators as measured in the overall THE World University Rankings.

Good Universities Guide

In the 2020 Good Universities Guide, ECU graduates have given us a 5-star rating for:

Teaching quality
Skills development
Student support
Learning resources
Median salary (based on the starting salary for new domestic graduates under age 25, and in their first full-time job.)

The 5-star rating for teaching quality has now been achieved for 13 straight years. We're the only public university in Australia to have achieved such a consistently high endorsement.

Read more about the Good Universities Guide.

QILT rankings

ECU received the top undergraduate teaching quality ranking of all public universities in the Australian Governments 2019 QILT (Quality Indicators for Learning & Teaching) survey.

We're also the top-ranked Australian public university for skills development and overall educational experience (based on two-year aggregated results).

ECU also ranked best in Australia across these disciplines for teaching quality, skills development, student support, quality of educational experience and overall educational experience:

Humanities, Culture and Social Sciences
Rehabilitation
Creative Arts
Teacher Education

Read more about the QILT survey.
Courses
Study world ready
Our Exercise Science and Rehabilitation program was the first in Western Australia accredited by Exercise and Sports Science Australia.
Download a guide
If you prefer paper over pixels, please download one of our guides.
Become World Ready
Experience Exercise & Sports Science at ECU.
Exercise Physiology lab

Vario Health Clinic gym

Strength & Conditioning lab
Reduce your expenses
Scholarships recognise those whose life journey may have been challenging, as well as students who've shown outstanding academic excellence and endeavour.
A scholarship can help you realise your ambitions by paying for fees, text books and living expenses.
Students benefit from professional partnerships
ECU's sponsorship-based partnerships with sports industry leaders, such as the West Coast Eagles and Perth Wildcats, offer our students unique opportunities to go behind the scenes, gain industry insights, network and see what career prospects might be available after they graduate.
Last year, Exercise & Sports Science and Business students attended an afternoon of workshops and activities with coaches and management teams from the West Coast Eagles (pictured). Partnerships like this help students learn how the knowledge and skills they're gaining from their courses can be applied in the real world.
Student aims for glory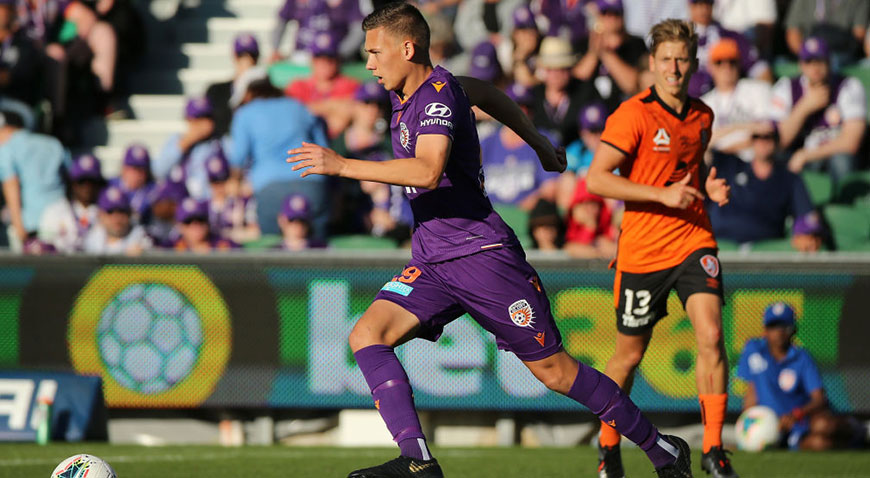 "I am originally from Sydney, and was recommended to study at ECU by a well-known person in the field of sports science. Since starting at ECU, I have not been disappointed -the ECU Joondalup campus is large and home to the latest technology and facilities."
"The course has really helped me in my aspirations to be a pro-footballer, helping to develop my knowledge in areas such as recovery strategies, nutrition and coaching. I would highly recommend ECU to anybody looking to study sports science."
Kristian Popovic, ECU Exercise and Sports Science student and Perth Glory footballer.
Student
stories
"I did my research beforehand and found Exercise & Sports Science can pave the way for different career paths"

Ricky LeGuay

The course has taken my personal training to the next level (evidence-based training). It has also given me the opportunity to work with the West Coast Eagles.

I went to China last year and worked with coaches from China's Olympic team and I will possibly be in Sri Lanka later this year with their athletes and continue to fast track my development as a Sports Scientist.

I did my research beforehand and found Exercise & Sports Science can pave the way for different career paths. Strength & Conditioning, Exercise Physiology and Teaching Physical Education to name a few, but there are so many more.

I chose ECU because of their corporate partnerships with some of our country's biggest sporting organisations, including the West Coast Eagles, WACA, Wildcats, etc.

When asked about Ricky's placement, West Coast Eagles General Manager (Community and Game Development) Richard O'Connell said, "Ricky is actively involved in the running of our Academies, learning from experienced coaches and elite players."

"His enthusiasm is a great reflection of the support Edith Cowan University provide their students. His journey is a great path for others to follow.

"I would like to become a professor and strength and conditioning coach"

Yosuke Kotani

I got a masters degree in the United States, but had no research experience before I came to ECU. I wanted to pursue my PhD under Dr. Haff and Dr. Nosaka, plus ECU is ranked 13th in the world in the field of exercise science.

The first year of the Integrated PhD really helped me to gain research skills such as writing, reading, presenting, and skills needed for experimentation. My supervisors have been devoting so much of their time to assist me to gain these skills.

In the longer term, I would like to become a professor and strength and conditioning coach at the university and to coach elite athletes.

"You have the opportunity to experience the workplace"

Claire Mason

I was looking to upskill into a clinical setting and ECU was the only university in Western Australia that was offering the accredited course. The lecturers are all very renowned in their own fields. Their current research is within the areas that they teach us. This means that we are getting the most up-to-date information in the lectures and labs. They were all very approachable and supportive should we need help with any of the assignments or topics that we covered.