Classical Performance: Vocal Major
Code MABUVA
Allows students to receive individual lessons, specialist performance classes and participate in a large range of ensembles, which may include chamber music groups, the symphony orchestra, fully-staged operas and cutting-edge new music.
Vocal students also have specialist classes to study acting, languages and movement skills.
Availability & Campus
JO - Joondalup
BU - South West
ML - Mount Lawley
OL - Online
Details
Structure
Note: The elective unit must be from the Classical Elective Unit Bank, or approved by the Unit Set Coordinator.
For more detailed unit information for this Major take a look at our Handbook. To organise your life for next semester visit the Semester timetable.
Student handbook
Notes
Learning Outcomes
Adapt knowledge and skills in diverse contexts to develop original compositions with different structures, features, and forms.
Demonstrate a broad and coherent body of knowledge with depth in the underlying principles and concepts of composition and music technology, including the definitive musical styles and significant musical and historical events of electronic music, the key composers, composition techniques and recordings of contemporary 21st century music, and the key characteristics of a range of historically significant musical genres.
Demonstrate initiative and judgement in planning, problem-solving, and decision making to create, market, and promote major composition performances.
Demonstrate responsibility and accountability for own learning to create a folio of creative works and develop an appreciation of seminal sound artists, musical works, and performances.
Exercise critical thinking and judgement to identify and solve problems during the implementation of compositional theory.
Review, analyse, and synthesise knowledge to recognise and accommodate different musical influences in creative practice.
Successfully communicate knowledge and ideas through composition techniques and concepts in concert with appropriate audio technologies.
Career Opportunities
Employment opportunities
Graduates of the classical music program can be found in major opera houses, recital halls and in educational institutions the world over.
Possible future job titles
Soloist, Chorister, Music Teacher, Vocal Coach, Church Musician, Early-Music Performer
This Major can be studied in the following courses
Student
stories
"WAAPA taught me all about music and what it takes to be a professional singer"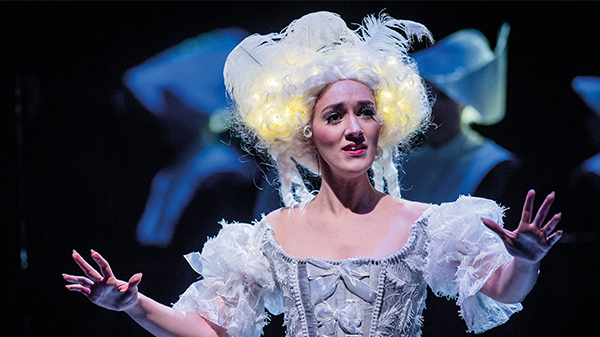 My undergraduate course at WAAPA gave me fundamental music skills and knowledge. History lectures and invaluable theory classes set me up to recognise musical context and structural understanding. These three years were the years I fell in love with music. The Graduate Diploma taught me that there were more elements to being a singer than I had ever imagined. This was the year I began to discover what opera and art song really could be. WAAPA helped set me up for my time overseas and prepared me with specific tools for my craft. In particular, role preparation and research, and stage confidence and exploration. It also allowed me to gain efficient learning skills when presented with new music, especially in other languages.