Aboriginal and Torres Strait Islanders
We help Aboriginal and Torres Strait Islander people and their communities to achieve their dreams and aspirations through further education at ECU.
Study at ECU
Kurongkurl Katitjin, our Centre for Indigenous Australian Education and Research, is strongly committed to helping new students understand and adapt to university life. The Centre also assists potential students with choosing a university entry pathway.
Pathways
There are a few different ways you can enter university. Whether you didn't get the ATAR score you were aiming for, or you've completed other qualifications, or even if it's been a few years since you've studied, you have some options.
Aboriginal University Readiness Assessment
The Aboriginal University Readiness Assessment (AURA) used to be known as the Aboriginal Student Intake Test (ASIT). It allows someone who has completed a Certificate II or lower to be considered for university entry.
It includes a self-assessment of your skills, knowledge and lifestyle to enable you to make informed decisions about entering university and thriving here as a student.
If you haven't completed at least a Certificate III qualification, AURA may be the simplest way for you to gain entry to enabling or undergraduate study.
UniPrep pathways
Another option for students is one of our bridging courses called UniPrep – short for University Preparation.
UniPrep comes in a few flavours – some are short, intensive courses, while others take longer to complete.
Whichever one you choose, if you complete it successfully, you'll be ready to apply for entry to a whole range of undergraduate courses across our eight study areas.
Not sure about your options?
If you'd like to chat about your pathway options, please email us at: kk@ecu.edu.au
What can you study here?
To help our students with a career direction, we group similar fields of work into study areas.
Within each study area below you can choose an undergraduate or postgraduate degree. And within most degree courses, you can choose your speciality, or major subject.
Download a guide
If you prefer paper over pixels, please download one of our guides.
Become World Ready
Scholarships and other financial assistance
As an Aboriginal or Torres Strait Islander student you may be eligible for different kinds of Government or ECU student loans.
The Aboriginal Tutorial and Mentoring Program also covers the cost of a tutor to help you with academic and study skills assistance.
You could also be eligible for a scholarship to help with the costs of studying.
For example, there are different kinds of Commonwealth Scholarships that cover higher education costs:
The Indigenous Commonwealth Education Costs Scholarship
The Indigenous Enabling Commonwealth Education Costs Scholarship
And some provide additional financial support if you're from a rural or remote area:
The Indigenous Commonwealth Accommodation Scholarship
The Indigenous Enabling Commonwealth Accommodation Scholarship
More about Commonwealth and other Aboriginal and Torres Strait Islander scholarships.
"We are committed to walking with you on your university journey."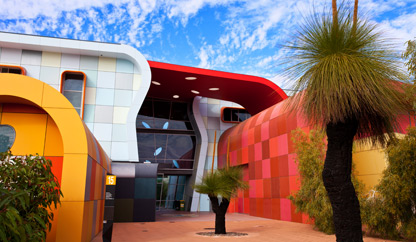 ECU's Centre for Indigenous Australian Education and Research, Kurongkurl Katitjin provides support services and programs to help meet the academic and cultural needs of Aboriginal and Torres Strait Islander students. These include:
Dedicated Student Success Officers
Nala Karla Student Rooms and facilities
Tutorial Assistance
Elder-in-Residence Program
More about Kurongkurl Katitjin.
Student
stories
"My ECU studies have taught me that hard work pays off"

Cassandra Catley

Indigenous University Orientation Course and Bachelor of Sport, Recreation and Event Management student

My study experience has been amazing and I am grateful for the connections I have built with friends from my futsal team, who I now consider my family.

I first began my journey with ECU through the Indigenous University Orientation Course. This pathway gave me the guidance and time to help me pick a career I am passionate about.

The lecturers offer great support and will always do their best to help you out when you need.

My ECU studies have taught me that hard work pays off and I am proving that more and more each semester, as I get closer to the end of my studies.

"ECU offers a high level of support for my studies"

Jarni McGuire

Bachelor Marketing, Advertising and Public Relations

The skills I have developed throughout my time at ECU have been invaluable. I was fortunate enough to complete an internship within the ECU's Corporate Marketing and Events Team, which gave me the opportunity to apply my learnings from my studies in a real world environment.

Balancing family, work and study has been the biggest obstacle during my studies, however ECU offers a high level of support to enable me to keep pursuing my studies and move forward with a smile on my face.

"As a stay at home mum for 10 years and the first in my family to go to university, I wasn't sure what to expect. I was immediately welcomed by staff and students!"

Regina Deleeuw

ECU Nursing student

I'd always wanted to become a nurse but having been out of the workforce for 10 years, being a mature aged Indigenous student and a mother of three, I was anxious about studying.

It didn't take long for me to settle into 'uni' life and fit in with everyone! I joined ECU's sports club and made some really good friends. The facilities at ECU are great and provide everything you need in one place. The staff are also really supportive.

Nursing at ECU has helped me develop organisational, communication, social and interpersonal skills in the classroom and I've been able to apply those in my nursing practicums. It's all been very rewarding.