CUA50213 - Diploma of Musical Theatre
Course overview
Choose student type
Entry requirements
ECU admission and English language requirements apply.
See Course Entry for further information.
Admissions
Availability & Campus
| | | |
| --- | --- | --- |
| | Semester 1 | Semester 2 |
| Joondalup | | |
| Mount Lawley | FT | |
| South West | | |
| Online | | |
FT - Full-time
PT - Part-time
Entry requirements
ECU admission and English language requirements apply.
See Course Entry for further information.
Availability & Campus
This course is not offered on-campus or online to international students.
Course Entry
Admission requirements you'll need to meet for this course.
The following course-specific admission requirements are mandatory and must be satisfied by all applicants. These requirements are in addition to or supersede the minimum requirements outlined within the Academic admission requirements band section below.

All applicants are required to attend an audition, and attend an interview, and normally be turning 18 by 30 June in the year of commencing the course.

Note For more information, including guidelines for specific disciplines, please see our Interviews, folios and auditions web page.

Academic admission requirements (Band 1) may be satisfied through completion of one of the following:

Completion of Year 10 or equivalent.

English competency requirements may be satisfied through completion of one of the following:

Year 10 English completion or equivalent.
Applications for this course are not accepted through ECU's Experience Based Entry Scheme.
Course Details
Choose student type
Semester availability
Semester 1: Study full-time at Mount Lawley
Semester availability
This course is not offered on-campus or online to international students.
Course Structure
Students complete 6 core units and 10 elective units, in accordance with CUA50213 Diploma of Musical Theatre packaging rules.
Year 1 - VET Full

| Unit Code | Unit Title |
| --- | --- |
| CUAIND402 | Provide freelance services |
| CUAPRF504 | Refine musical theatre techniques |
| CUAACT402 | Develop acting techniques for musical theatre |
| CUAWRT501 | Write about dance |
| CUAPRF409 | Perform in a musical theatre ensemble |
| CUADAN403 | Develop expertise in jazz dance technique |
| CUAWRT502 | Develop storylines and treatments |
| CUAMLT501 | Refine aural perception skills |
| CUAWRT503 | Write about music |
| CUAWHS501 | Maintain a high level of fitness for performance |
Year 1 - Semester 1

| Unit Code | Unit Title |
| --- | --- |
| CUAMPF407 | Develop vocal techniques |
| CUAPRF601 | Extend musical theatre performance techniques to a professional level |
| CUAPRF501 | Refine performance techniques |
C68|2
For more detailed unit information for this course take a look at our Handbook. To organise your life for next semester visit the Semester timetable.
Student handbook
Fees and Scholarships
Choose student type
VET course fees are set by the WA Government and they vary from course to course. For more information, please go to Fees and Scholarships.
Scholarships
ECU has a scholarship program that provides many opportunities each year to students undertaking studies here.
Find a scholarship
Career Opportunities
By studying at WAAPA, students gain practical performance experience in a range of the performing arts, preparing them to work professionally in a wide range of theatre activity.
Possible future job titles
Actor, Singer, Performer, Entertainer, Dancer
Courses you can consider if you are interested in progressing further in this area.
Student stories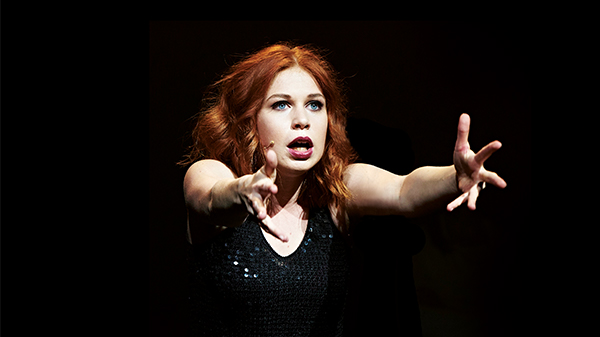 Quick guide to uni-speak
ATAR is the Australian Tertiary Admission Rank, the primary criterion for entry into most undergraduate university courses in Australia. The ATAR is a percentile score which denotes a student's ranking relative to their state-wide peers upon completion of their secondary education.

CRICOS is the Commonwealth Register of Institutions and Courses for Overseas Students. A CRICOS code is allocated to education institutions (like ECU) who are approved to recruit, enrol and deliver education to overseas students. Courses with a CRICOS code are available to international students who meet the entry requirements.

A major, or unit set, is your chosen area of in-depth study in an undergraduate course. It usually involves 8 units of study, or one-third of the units in a 3-year degree. Talk to your Student Information Office if you need help choosing a major subject.

Minors include between 4 and 6 study units in a specific discipline. Not all courses require you to complete a minor. Your minor subject doesn't appear on your printed degree (parchment), but is part of your academic transcript.

If you're enrolled in 3 or more units in a semester this is considered full-time study. To complete most 3-year degrees studying full-time you'll need to complete 4 units per semester, i.e. 24 units over 3 years.

If a course is available to study part-time you can generally expect it to take twice as long to complete as it would in full-time mode. Part-time students are enrolled in 1 or 2 units maximum per semester.

Note: International students who hold a student visa can only choose the full-time study option for our courses. This is to ensure the course is completed within the duration of the student visa.

Most courses start in Semester 1 each year, usually in the last week of February. Some courses can be started in Semester 2 (we call this mid-year). There's a week of Orientation before each semester to help you get used to uni life.

A lot of our courses start in Semester 2 each year, usually in the last week of July. We call this mid-year. There's a week of Orientation beforehand to help you get used to uni life.

We use a points system to make it easier for you to understand your study progress. Most Bachelors degree study units are allocated 15 credit points. If you're studying a 3-year full-time degree you'll need to successfully complete 360 credit points - that's 24 units x 15 points per unit.

These are compulsory units you have to successfully complete as part of your course.

An elective is a unit you choose to study that counts towards your course requirements, but isn't compulsory. For some courses we recommend elective units. In some situations, a course coordinator may approve an elective unit as a replacement for a compulsory one.