Executive Dean's Message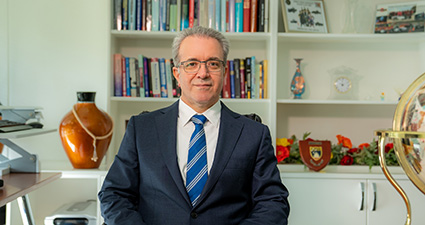 Engineering is a great profession for creative thinkers who have an analytical mind and have the desire to apply science and technology to develop solutions, systems and infrastructure to serve the changing needs of the global community. Engineers are highly sought after globally for their unique problems solving skills, and they enjoy a professional career that is highly rewarding, exciting and far from repetitive or mundane.
The School of Engineering at ECU is recognised internationally for its excellent quality of education and research, supported by highly supportive and committed academics and outstanding infrastructure and facilities that are second to none. My colleagues embrace and promote the concept of peace engineering, and deliver our teaching and research programs within the paradigms of environmental and community sustainability. We teach the next generation of engineers to reflect on environmental considerations in their design and development practices, and endeavour to harmonise the natural and built environments such that we can sustain and improve our world for all creatures and for future generations.
Our responsible and ethical approach to community and environmental sustainability, together with a student-centred culture and a strong focus on industry engagement and professional practice, has made the School of Engineering at ECU one of the fastest growing and most successful engineering schools in Australia.
If you wish to study engineering in an environment that promotes learning excellence, where you are not just a number and everyone is treated like a VIP, and a place where diversity is celebrated and inclusion is the norm, and where integrity, respect and harmony are at the core of our culture, then you should consider joining my School. Join us, be part of our learning journey, and acquire the professional knowledge and ethics to help make the world more sustainable and serve humanity.
Professor Daryoush Habibi
Pro Vice-Chancellor and Executive Dean
School of Engineering