ECU Worldsearch
Use ECU Worldsearch to search through the Library's collection of books, eBooks, journal articles and more.
We have prepared two tips sheets to help you search:
To find what you are looking for, simply type your search query into the search box. You can search by using keywords, titles or authors.

You can use the filters menu at the left hand side of the page to restrict the search to specific items. You can restrict the search to only look for certain formats, such as books, eBooks, articles, or videos. You can also refine the search by author, publication date, language, and topic.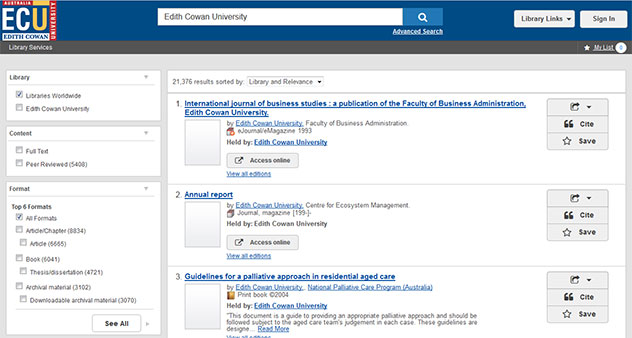 Once you have some search results, you can click on each item for more information. If the item in an article or eBook held online, you can press the 'Access online' button to view it.

If the item is a physical book held at ECU, the search result will show you if it's available, which Campus Library and collection it is held in, and what the call number is.

Useful Search Tips

If you have any queries about using ECU Worldsearch, please contact the Library.
Google Scholar
You can also find items held by the ECU Library by using Google Scholar.
Go to:
'Scholar Settings'
'Library Links'
type in 'Edith Cowan University'
'Save'
Now when you search using Google Scholar, you can click on Findit@ECU to see whether the item is available via ECU.